Widely known as "the Queen of the suburbs," Ealing is perfectly situated just outside of the busy, crowded streets of Central London whilst still maintaining strong travel connections to the City, making it an ideal location for commuters. With a large variety of shops and markets, there is a lot on offer to anyone looking to locate themselves within this vibrant community. Ealing boasts a strong musical culture; claimed to be seminal in the growth of British Rock and Roll, Ealing plays host every year to the largest jazz festival in the country, as well as a range of other musical events, on Walpole Park.
Location
At its administrative centre, Ealing Broadway has been a prime example of suburban living since the Victorian era. Ealing is the famous home of one of Britain's best film studios, and is now a district with a strong commercial centre, housing a great number of office spaces to meet various needs, from the smallest studio spaces to larger complex buildings. This makes Ealing a fantastic option for new and established businesses to set up a home right on the edges of London.
Getting around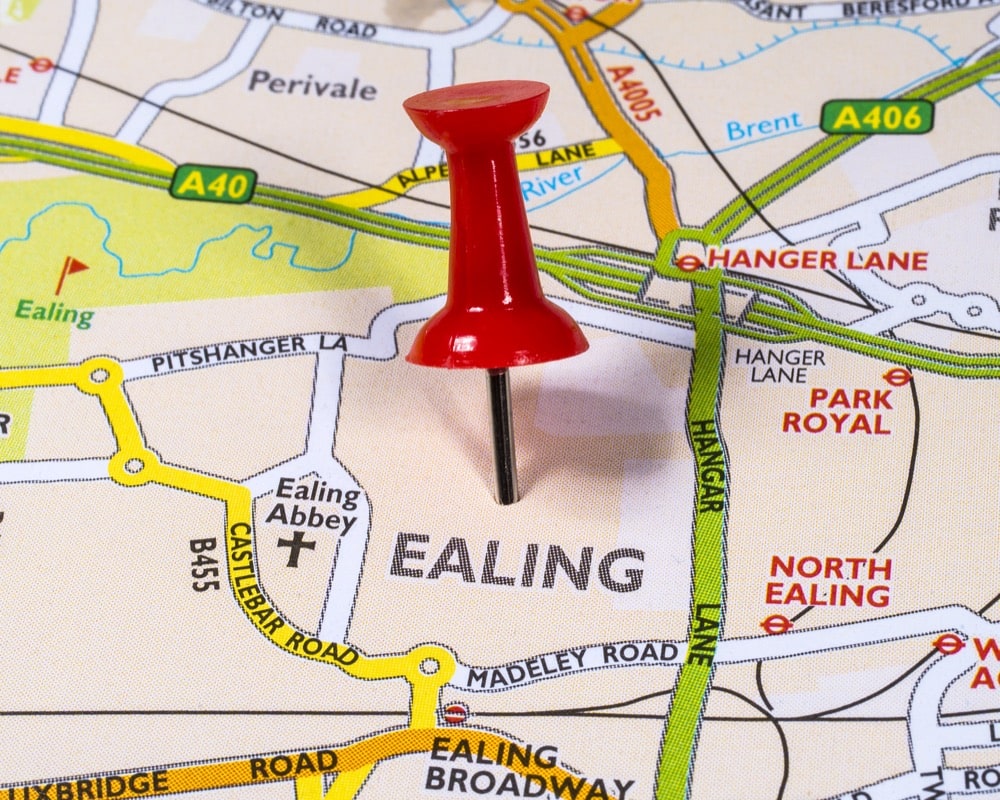 Despite being on the outer reaches of London, Ealing does not suffer from poor transport connections. The district benefits from four different Underground connections. The busiest station, Ealing Broadway, not only has Central and District Line connections, giving it direct access all the way through central London and out to the East of the city, but also serves, along side West Ealing station, as a National Rail connection to the Great Western network and for connections to nearby Heathrow Airport.
Piccadilly Line connections run from North Ealing, South Ealing and Ealing Common, which also lies on the District Line. This gives the district an enviable connection not only to London but all over the world, thanks to its close proximity to Heathrow Airport.
Office space in Ealing
A varied range of office space is available in Ealing and with both a strong musical background and the presence of Ealing Studios nearby, it is an ideal place for businesses finvolved with the creative and entertainment industries. Offices in the area are ideally located within a much sought after suburb with fantastic amenities and recreational facilities.
Centres such as Saunders House, Oasis Serviced Offices and International House offer flexible office solutions that are well situated within the district. This variety makes Ealing perfect for most businesses, from the smallest start-up to more established businesses looking to progress.
Situated as it is outside of Central London, Ealing benefits from much lower rates for its office space than may be found in the city centre or the east of the city. This affordability makes Ealing ideal for younger businesses looking for reasonable rental rates whilst still offering the benefits of a proximity to London.
Office Locations in Ealing
Transport links
Railway stations

Ealing Broadway

Underground stations

North Eaing, Ealing Common, South Ealing, Ealing Broadway

Major roads

North Circular Road

Bus routes

83, 92, 195, 207, 282, 427, 607, N207

Taxis

Haven Green (Ealing Broadway Station)