One of the trendiest locations to do business in London and with rates that are far more competitive than other areas of the City of Westminster, Covent Garden is definitely worth investigating for companies who want good value for money without having to compromise.
Geography
Covent Garden is located on the outskirts of London's West End and is close to the theatre district, as well as independent shopping areas of Holborn and Long Acre. The area focuses on the former fruit and vegetable market in Covent Garden Square, which was refurbished in the 1980s to become a shopping centre, and is surrounded by big-named shops such as Apple, who opened their store in the square in 2010.
In addition to its retail space, Covent Garden is also home to many restaurants and pubs, given its proximity to the theatre district. The square itself is a popular space for street performers who take full advantage of the hordes of tourists that descend upon the square daily.
Getting there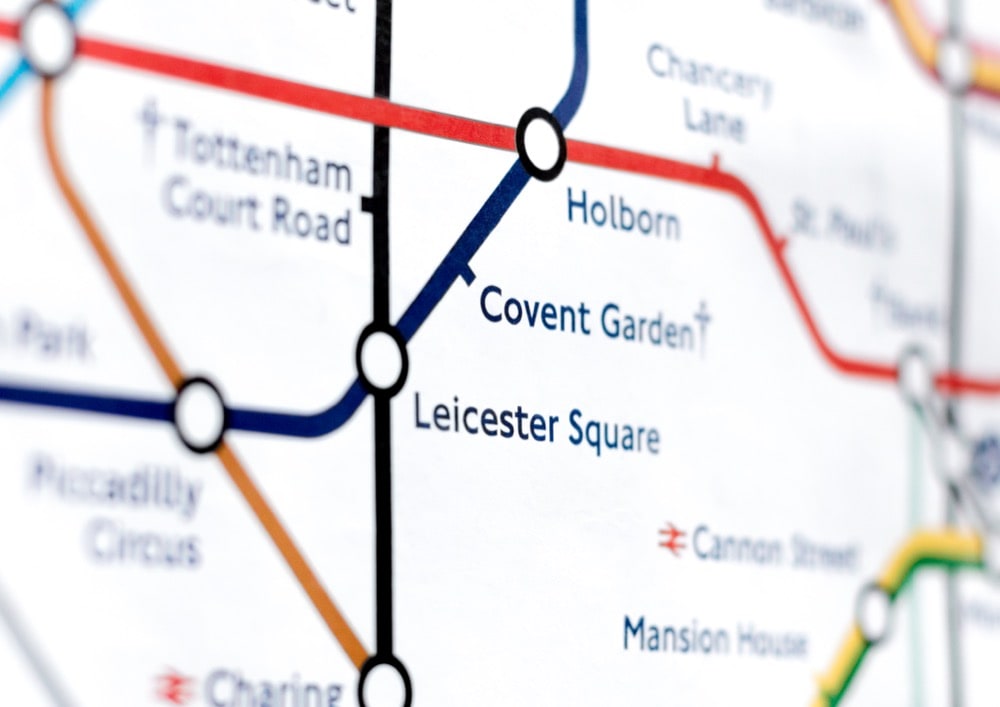 A very short walk from Covent Garden Square is Covent Garden underground station, which is on the Piccadilly Line, however, during the height of the tourist season this station suffers badly from overcrowding. The station itself has limited access with elevators providing the only access from street level to the platforms. This can often bring the flow of passengers to a complete standstill, and frequently leads the Underground to close the station to boarding passengers, making it an exit-only station during the busiest periods.
The next closest underground station, a mere 300 yards' walk from Covent Garden, is Leicester Square, which is far more commodious. In addition to Leicester Square, there is Charing Cross and Holborn underground stations, which are within 5-10 minutes' walking distance. Charing Cross itself is the nearest mainline station that provides services in and out of London.
Covent Garden is served by over 30 bus routes from all around the capital, and there are plenty of bicycle parking facilities in the neighbourhood, including Transport for London's hireable public bikes (nicknamed "Boris Bikes").
Failing that, Covent Garden is conveniently located to many of central London's thoroughfares, so it doesn't take long to walk between areas.
Local economy
The wider area is home to a lot of cultural establishments, such as the London Transport Museum and various theatres. Nearby Neal Street and Long Acre are known for their shoe and clothing shops respectively, with Covent Garden Square being famous for its unique shopping opportunities and market stalls. However, the surrounding area is also home to a lot of non-retail businesses.
Many of the buildings in Covent Garden, including the market halls, were bought by CapCo for £421 million on a 150-year lease. These buildings are let to the Covent Garden Area Trust and ensure that the buildings and the character of the area are protected from being redeveloped and losing their charm. The entirety of the Covent Garden Estate is valued at £650 million.
Office space in Covent Garden
The Covent Garden locale and surrounding areas have plenty of office space available, ranging in price.
The offices are located in a variety of buildings from different eras, from Victorian to Georgian periods to modern purpose-built office space. In addition, many of the buildings are repurpose space, including a former cinema that has been subsequently developed into prime office space!
The cost of office space ranges from as little as £300 per person per month up to and beyond £905 per person per month. Because of Covent Garden's location, it is neighboured on all sides by different districts that also range in price.
With Soho, Mayfair and Piccadilly very near by in the south, Holborn in the north, and Pall Mall to the south west and the Strand to the south east, prices for office space will fluctuate dramatically depending on how far outside of Covent Garden you wish to venture.
Click here to see our full range of office space available to rent and lease in Covent Garden.
Office Locations in Covent Garden
Transport links
Major roads

A4/A400

International airports

Heathrow (16.4 miles)

Underground stations

Covent Garden

Railway stations

Covent Garden

Bus routes

1, 4, 6, 7, 8, 9, 10, 11, 13, 15, 19, 23, 24, 25, 26, 29, 38, 55, 59, 69, 73, 77A, 91, 98, 134, 139, 168, 171, 172, 176, 188, 242, 243, 341, RV1 and X68